I was reading $120 Food Challenge the other day when this caught my eye – Chocolate Porridge Cake. As a very recent convert to porridge I thought it sounded intriguing so I gave it a go, and boy am I glad I did.
It turned out to be a dense, moist cake but with the lightest flavour. I'm guessing it's the oats that make a small piece so filling. The recipe said to add your favourite chocolate  icing, which was a bit of a problem as I've only made icing once before, for the Chocolate Gingerbread Cake so I rang mum. Mum gave me a rough guide to icing and away I went. I added one splash too much water but It worked out fine.
One thing I need to find is a deep 20cm cake tin, I think the excessive cracking came from the tin being too shallow.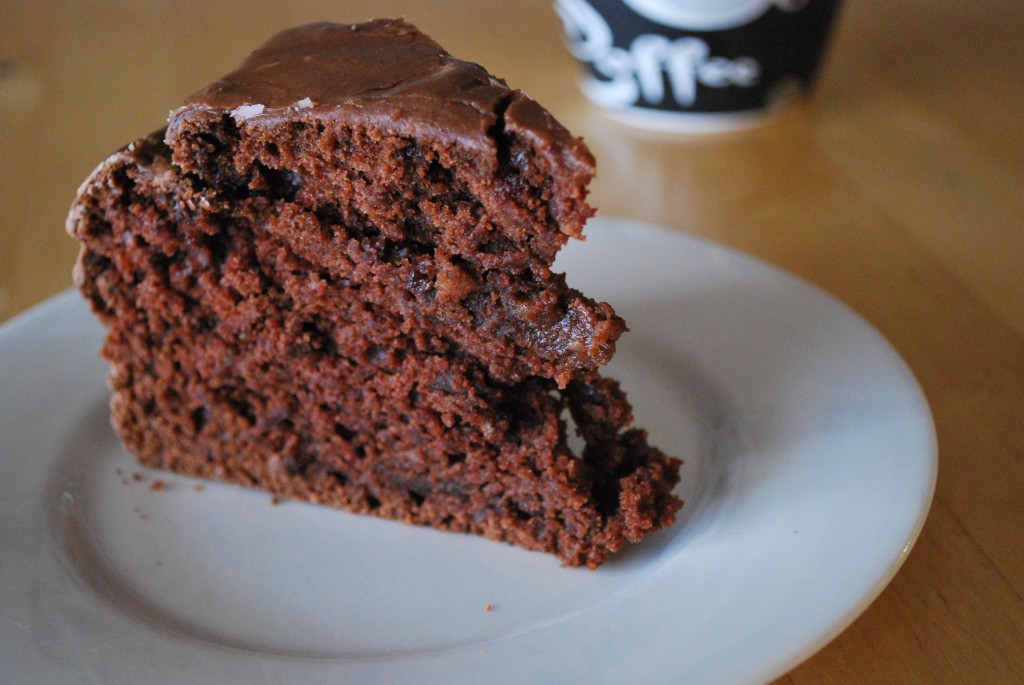 Recipe from http://120dollarsfoodchallenge.com/2011/08/10/sweet-treats-chocolate-porridge-cake/
INGREDIENTS
1 cup rolled oats; 2 cups water; 125g butter; 4 tbsp cocoa; 1 ½ cups soft brown sugar; 1 tsp vanilla essence; 2 cups plain flour; 1 tsp baking powder; 1 tsp bicarbonate soda; pinch salt; 2 eggs, lightly beaten;
METHOD
Preheat oven to 180°C. Grease a round 20cm cake tin and line the base with baking paper. Set aside.
Place oats and water in a medium-sized saucepan and bring to the boil. Reduce heat and simmer, stirring, until the oats soften and thicken, about ten minutes. Add the butter and stir well until the butter has melted and is well combined.
Stir through the cocoa, soft brown sugar and vanilla.
Sift together the flour, baking powder, bicarbonate of  soda and salt and add alternatively with eggs to the mixture.
Pour the mixture into the prepared cake tin and smooth the top with the back of a spoon. Bake for 45 minutes or until the centre of the cake springs back when you press down on it.
When the cake is cool, ice with your favourite chocolate icing. The cake will keep well in a sealed container and as my friend tells it, keeps well in school lunch-boxes without disintegrating.