It was Rob's birthday this week and tradition demands a cake. The morning of his birthday I was flicking through The Age and found a recipe for Karen Martini's Sticky Chocolate Gingerbread Cake. It looked suitably birthdayish and all I had to do was pick up some fresh ginger so away I went.
The result was pretty damn good, even if I do say so myself. Lots of spices with fresh ginger and ginger juice combined with a hint of lemon in the decadent icing made for a grown up chocolate cake, but one that a couple of the kids actually liked too.
It's very much a special occasion cake as it's so rich but it's not too complex for a beginner like me.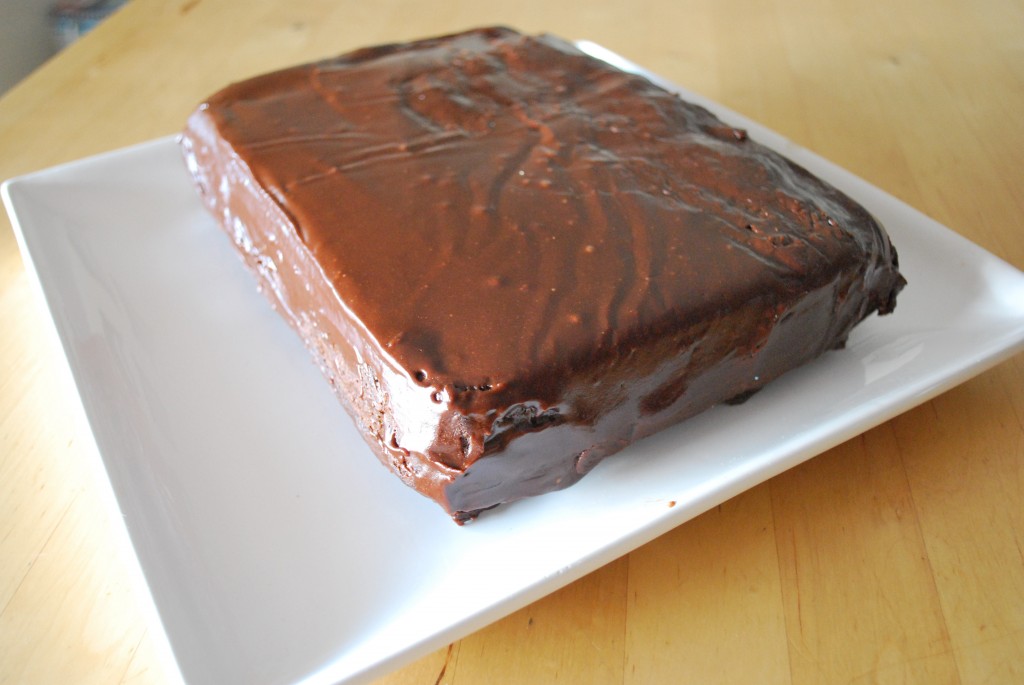 I even manged my first attempt at icing.
The recipe from Good Food/The Age :
Ingredients
Gingerbread
180g unsalted butter
1 tsp ground cloves
1 tsp ground cinnamon
1 tsp ground ginger
2 tbsp fresh ginger, finely grated
150g brown sugar
150g treacle
150g golden syrup
1 1/4 tsp baking soda
250ml milk
2 large eggs
280g plain flour
30g cocoa powder
150g chocolate chips
Icing
80g unsalted butter
4 tbsp cocoa powder
3 tsp fresh ginger juice – finely grate a piece of fresh ginger, about 8cm, and squeeze out the juice
25ml lemon juice
180g icing sugar
Method
1. Line a 30cmx20cm shallow baking tin with baking paper. Preheat the oven to 160 degrees fan-forced or 180 degrees conventional.
2. In a large saucepan, melt the butter, add the spices, fresh ginger, sugar, treacle and golden syrup and warm through.
3. In a small bowl, dissolve the baking soda in a tablespoon of milk.
4. Crack the eggs into a bowl and whisk lightly. Whisk in butter and spice mix. Add baking soda and remaining milk, sift in the flour and cocoa and mix until smooth. Fold the chocolate chips through the batter.
5. Pour into the prepared tin and bake for 40 minutes or until cooked – the cake will be springy to the touch.
6. For the icing, in a bowl over just-simmering water, heat the butter. Add the cocoa powder and the ginger and lemon juices, then whisk in the icing sugar until dissolved and homogenous.
7. Allow the cake to cool then lift from the tray. Ice and allow the icing to set before serving.